In partnership with the Embassy of Ireland, Belgium, and the British Embassy Brussels, and with support from the European Federation of Associations and Centres of Irish Studies (EFACIS), the Office of the Northern Ireland Executive Brussels was pleased to host a panel discussion on 'Female Lines: New Writing by Women from Northern Ireland.'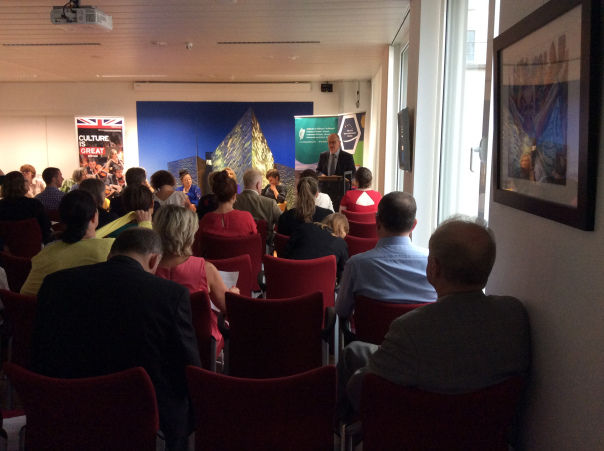 In 1985, the Northern Ireland Women's' Rights Movement published 'The Female Line', as the first ever collection of literature from women writers from Northern Ireland. 'The Female Line' endeavoured to show the experiences and perceptions of women.
Published in 2017, 'Female Lines' is a follow-up anthology of writing from thirty-three female writers from, or with a connection to, Northern Ireland. Dr Dawn Miranda Sheratt-Bado co-edited the anthology alongside Belfast-born, awarding-winning author Linda Anderson. An academic specialist in Irish studies, Dawn has contributed to publications such as The Honest Ulsterman, amongst others. During discussions, Dawn described how she felt it was important to pay homage to the original publication, 'The Female Line' while exploring how life had changed for women of Northern Ireland post-ceasefires and after the Good Friday/Belfast Agreement.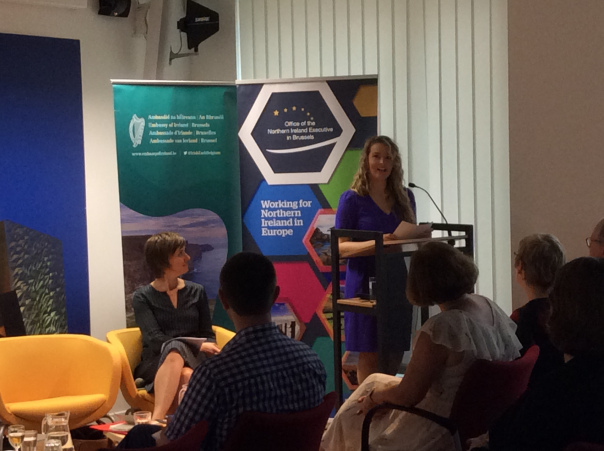 Celia de Fréine writes across many mediums, working in both English and Irish. Ceannródaí, her biography of Louise Gavan Duffy, will be published in autumn 2018. Celia explained that, having spent much of her life moving back and forth across the border between Northern Ireland and Ireland, her work is shaped by her feelings of belonging and disconnection.
Dr Margaret Ward is currently an Honorary Senior Lecturer in Queen's University Belfast, and she is the author of a number of historical works, including 'Unmanageable Revolutionaries: women and Irish nationalism'. Margaret told the audience how the study of women in Irish history has developed since 'The Female Line' was first published.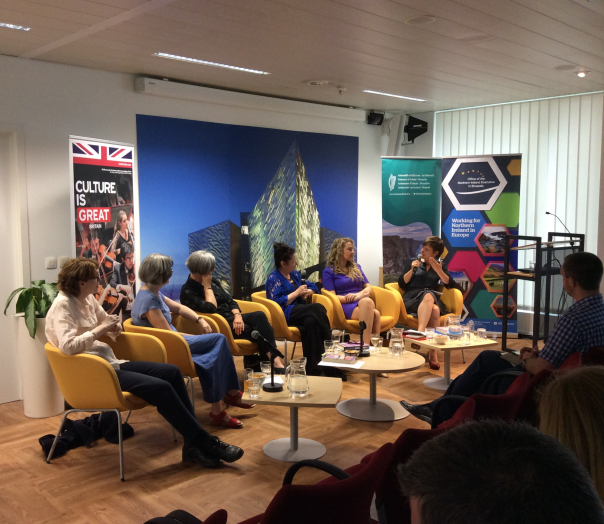 Poet, memoirist and short-story writer, Dr Heather Richardson, was born in Northern Ireland in 1964. She is currently working on a hybrid text and textile project 'A dress for Kathleen', which has received funding from the Arts Council of Northern Ireland. Heather explained how emerging from the binary nature of conflict makes life less straightforward, and how that context is perfect for writers.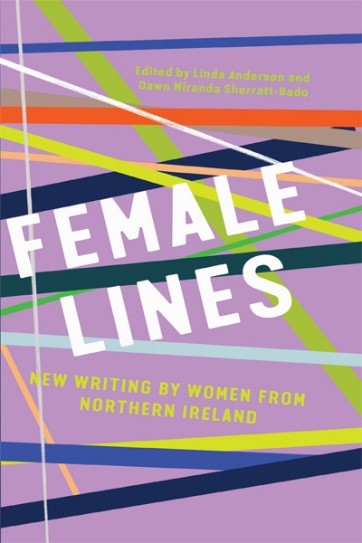 Rosemary Jenkins is a playwright and short story writer from Belfast whose works have been performed in Belfast, Dublin, London, Edinburgh, Washington DC, and New York. Rosemary spoke about the difficulties and opportunities of being a women writing about the complex society of Northern Ireland.
Belgian journalist Annelies Beck moderated the event with expert pacing and a skill developed from her years as a TV and Radio journalist in Belgium. Her probing questions stimulated lively discussions between the writers and audience members, and provoked thoughtful reflection on what it means to be a female writer in Northern Ireland today.