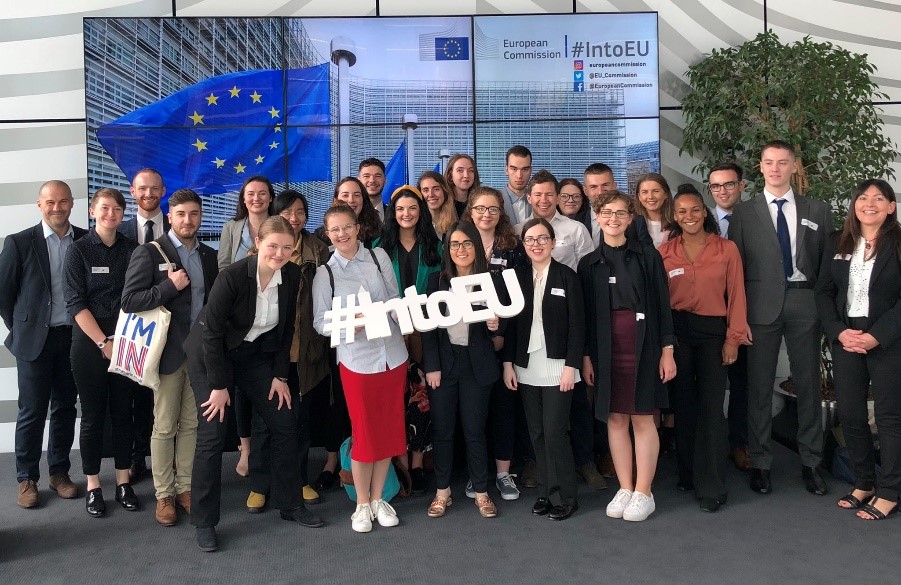 Every year we welcome a group of students from Queen's University Belfast to Brussels for a Study Tour.
This immersive experience consists of visits to a range of EU Institutions and employer workplaces. Participating students have the opportunity to learn first-hand about living and working in the heart of the EU whilst getting insider tips from professionals working here.
On the first day of their tour we welcomed 24 students to our office. They met with Lynsey Moore, our Deputy Head of Office, and Emma O'Kane, a graduate Policy and Events Intern Assistant. The students received an overview of the Office of the Northern Executive Office in Brussels and Emma gave an insider's perspective on her experience of post-graduate job hunting and her experience of the city.
The visiting students are currently studying a diverse range of subjects including Languages, History, Law, International Relations, Politics and Education. This variety represents the many paths and opportunities open to them in the heart of Europe – whether in the EU institutions or in private offices.
Later in the day, the students returned to our office for a Brussels and QUB Alumni Networking Reception. Students and Alumni discussed life and work in Brussels in a more informal setting. This prepared them for a week of visits to EU Institutions and private offices. Many of these hold a tight connection to Northern Ireland including Hume Brophy, Baker McKenzie and IBEC.
We wish the students luck with the remainder of their studies and hope this unique insight to Brussels encourages their career progression.
The Brussels Office would be pleased to discuss Study Tours with other Education organisations. Contact us at Info.BrusselsOffice@executiveoffice-ni.gov.uk.