The Office of the Northern Ireland Executive in Brussels hosted the NICS Department of Justice, the Police Service of Northern Ireland (PSNI), the Prison Service (NIPS) and NI Courts & Tribunals Service when they showcased their work to representatives from a wide range of Brussels based organisations and representations.
Over two separate events, these organisations showcased examples of their cooperation that aims to deliver a safer community. The presentations and subsequent discussions were testament to Northern Ireland's innovative approaches to criminal justice.
INNOVATION IN THE NORTHERN IRELAND JUSTICE SYSTEM
On 2nd October, Peter May, Permanent Secretary of the Department of Justice, introduced the event programme alongside Sampo Brander, Justice and Home Affairs Counsellor for the Finnish Presidency of the Council of the EU.
The audience learned about the programme of initiatives aimed at reducing re-offending across society through supporting people to move away from criminality and during their journey through the justice system. This approach aims to provide better support for vulnerable individuals resulting in fewer victims, fewer children taken into care, a break in the cycle of intergenerational crime and, ultimately, safer and more confident communities. 
NI Prison Service described their innovative work in prisons to change environments so that they may better support and challenge people in custody. The new £54million Davis House accommodation block at Maghaberry puts rehabilitation at the centre of the NIPS work.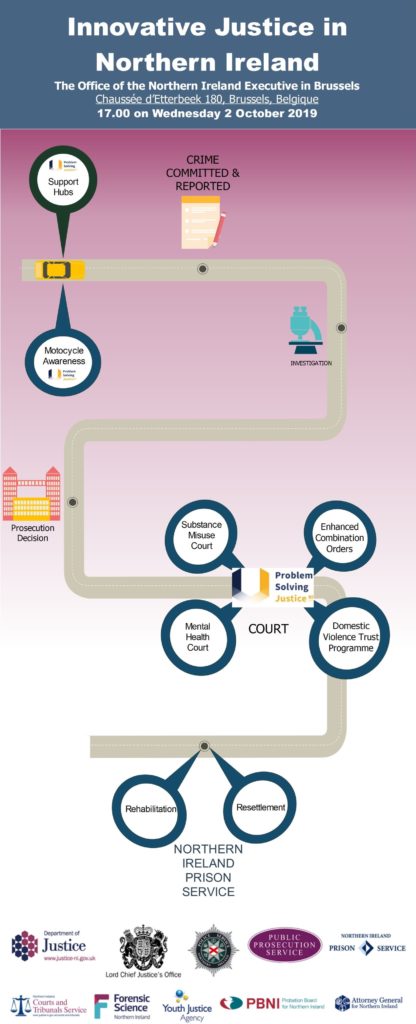 This infographic demonstrates how the most vulnerable members of society are engaged in a hub of organisations which links them to the services most suiting their needs.
CROSS-BORDER CO-OPERATION IN TACKLING CRIMINALITY, VULNERABILITY AND CYBER CRIME
On 16th October, Karen Pearson, Director of EU Relations (TEO), outlined the importance of working collaboratively across borders, the benefits of local cooperation, the social value of community policing and the justice outcomes delivered through police cooperation.
Operational policing in difficult environments, and the need for close working relationships with An Garda Síochána to effectively police the border area was discussed. PSNI's expertise in prosecuting cases of Human Trafficking and Modern Slavery detailed the benefit of encouraging victims to cooperate with the PSNI to help secure convictions. PSNI presented examples of a number of operations carried out by their Modern Slavery and Human Trafficking Unit (MSHTU) and highlighted their support for Anti-Slavery Day on the 18th October 2019. Read more here.